Experience a cherished Pittsburgh tradition at the 8th Annual Peoples Gas Holiday Market™ in Market Square.
Pittsburgh's Peoples Gas Holiday Market™ mixes international flair with local charm. Enjoy a one-of-a-kind shopping village as you stroll through an illuminated Market Square, weaving through wooden chalets brimming with high-quality gifts and holiday experiences.
Open daily November 22 - December 23
Peoples Gas Holiday Market™ Hours:
Monday - Thursday: 11:00 a.m. - 8:00 p.m.
Friday & Saturday: 11:00 a.m. - 9:30 p.m.
Sunday: 11:00 a.m. - 6:00 p.m.
Closed Thanksgiving
Shop now, play later
Shop before Thanksgiving for a free $10 Scene75 Game Card with each purchase
Shop at the Peoples Gas Holiday Market™ before Thanksgiving to receive the perfect stocking stuffer for yourself, your family, and your friends! Receive a FREE $10 Scene75 Game Card when you make a purchase from any vendor from Friday, November 22 through Wednesday, November 27.
While supplies last. Game card is good for any play at Scene75 Pittsburgh location. Limit one game card per customer per day from each vendor. Game cards expire 2/28/2020. This offer is not redeemable for cash.
Stop by Santa's House and receive a free photo with Santa when you make a donation to the Greater Pittsburgh Community Food Bank.
Over the past seven years, we've raised almost $300,000 providing over one million meals to our neighbors in need through the help of Pittsburghers like you.
Santa's House Hours:
Monday – Thursday: 12:00 -3:00 p.m. & 4:00 - 7:00 p.m.
Saturday: 12:00 -8:00 p.m.
Sunday: 12:00 -6:00 p.m.
Black Friday: 12:00 -8:00 p.m.
Santa's House is open daily Saturday, November 23 - December 23, closed Thanksgiving.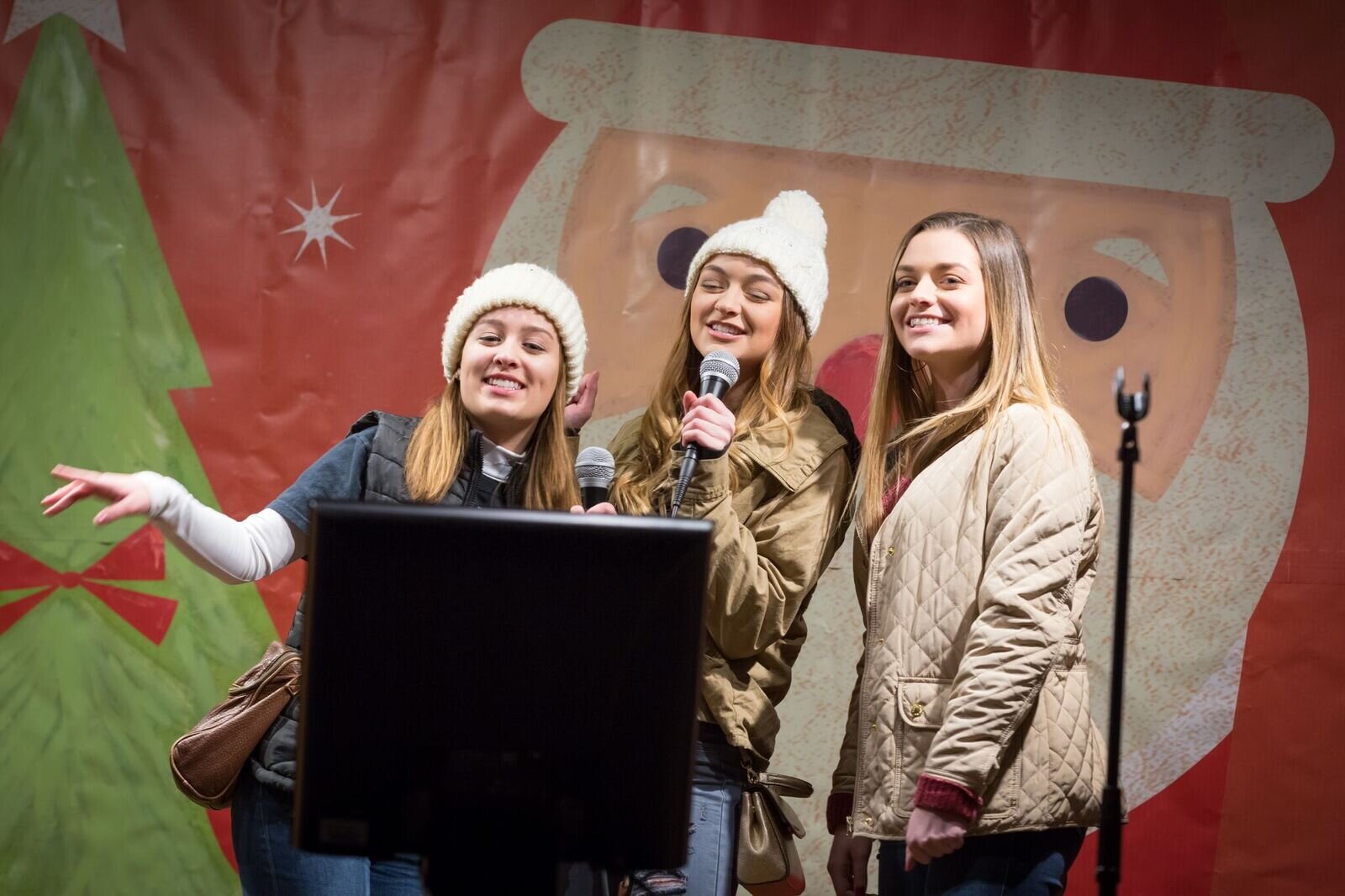 $1,000 Grand Prize Holiday Karaoke 🎤
Stop by every Monday and Tuesday, November 25 - December 17, from 5:00 – 7:00 p.m. for the return of the Holiday Karaoke Contest!

Pittsburgh's best (and worst) amateur crooners will belt out holiday classics, vying to move on to the grand finale on December 23, where the winner goes home with a $1,000 grand prize. There are also nightly prizes and a gift for all participants.

Walk-ups accepted as space allows. Sign-ups are coming soon.
Holiday Market Entertainment 🎵
Enjoy daily performances while in the Peoples Gas Holiday Market™ on the Holiday Market Stage ranging from school choirs to dance groups, acoustic artists and local musicians. Check back soon for an updated schedule of upcoming entertainers.
Want to make sure you don't miss out? Sign-up for our weekly Downtown email newsletter to get the Holiday Market entertainment schedule right in your inbox each week its published, along with places to catch free live music all around Downtown as part of our Downtown Sound Initiative.
BNY Mellon Season of Lights ✨
Every evening, watch a nightly, glittering wonderland show synchronized to holiday music medleys. Designed by the same team who lit iconic landmarks like the Eiffle Tower, see lights dance across the buildings in Market Square.
Bali Made
Decorative boxes, ornaments, bowls, candleholders, masks, batik stamps, hand-carved animals, wind chimes, and seashell spoons.
Blissed Out Design
A diverse selections of ornaments, drink coasters imprinted with vintage images or original artwork as well as coaster holders, gift boxes, and wall prints.
Bob's Belgian Hot Chocolate
Hot cocoa made with imported chocolate and topped with homemade whipped cream and gingerbread cookies served in souvenir mugs.
Cha-Ching Coin Jewelry
Locally handmade earrings, bracelets, pendants, and a variety of items made from international coins and tokens. Custom work available as well.
Chocolate Moonshine Company
Gourmet fudge and artisan chocolates featuring truffles, turtles, and creative treats made with Belgian chocolate. Available in gift assortments or by the pound.
Euro Haus
Jewelry, scarves, hand-blown glass ornaments and bowls, wooden German scenes, matryoshkas, Polish pottery, nutcrackers, porcelain, religious, and ethnic items.
European Folk Art
Polish folk art including hand painted glass ornaments, dolls, wooden boxes, carved Santas and Nativities, nesting dolls, wallets, candle holders, flutes and nutcrackers.
Fabulous Homemade Cookies
Handmade cookies, brownies, cupcakes, and holiday cookie assortments. Pre-order your holiday trays at fabuloushomemadecookies.com and pick them up at the market.
Gifts From Afar
Nesting dolls, carved Santas, wooden ornaments, glass animals, Lithuanian candle houses, amber jewelry, lacquered pins and hairclips, birch bark boxes, and wooden toys.
Global Girl Gifts
Jewelry, small bags, scarves, leather journals and gifts items. Products sourced during trips overseas to Southeast Asia and bought from individual artisans and certified fair trade organizations.
Austrian Strudel, ready-to-eat bratwurst, pretzels, and hot apple cider.
Himala Home
Hand-made wool and felt products from Nepal including jackets, gloves, hats, scarves, socks, leg warmers, ponchos, pashminas, bags, decor, and accessories.
Käthe Wohlfahrt
Käthe Wohlfahrt is the signature retailer of German holiday gifts including Advent calendars, traditional smokers, nutcrackers, music boxes, steins, chocolates, ornaments, and more.
Kenyan Craft Connection
African hand-made arts, crafts, and jewelry. Also featuring wooden crafts, nativity sets, handwoven baskets and handbags, and walking sticks.
Linda Barnicott Art and Gifts
Pittsburgh and holiday themed prints and gift items from one of Pittsburgh's most beloved artists. Ornaments, coasters, trays, dishes, magnets, and note cards adorned with original images.
Mistura Timepieces
Each timepiece is individually handcrafted using the most unique techniques and materials like stones, real flowers, corks, leathers, and recycled materials.
Old German Christmas
Authentic German-made products including traditionally manufactured glass, pewter and wood ornaments, plus wood crafts including nutcrackers and candle arches.
Pittsburgh Irish Festival Celtic Gift Shoppe
Imported Irish merchandise including ornaments, jewelry, tea, bags, sweaters, ties, books, hats, and other expertly curated items.
Pittsburgh Pottery
Pittsburgh-themed and locally- made ceramic mugs, bowls, plates, shot glasses, platters, and Christmas ornaments.
R Wine Cellar
A variety of holiday inspired wines to take home including traditional spiced Glühwein. Samples available for people age 21 and older.
strawberryluna + Worker Bird
Two Pittsburgh-based artist groups featuring beautiful art and illustrations in print, cards, ornaments, home goods, and more. Eye-catching graphics and playful imagery adorn hand-printed artwork, tea towels, aprons, and home goods.
Style Truck
Unique winter accessories such as hats, gloves, and scarfs for women, men, and children. Also featuring women's outerwear.
Vessel Studio Glass
Locally made, hand-blown artisan ornaments including glass pickles and ducks, various vases, decanters, cups, terrariums, bowls, pens, gifts, and accessories.
Wagman Designs
Natural fashion jewelry made with shells, glass, wood, pearls, crystal, and metal beads in combination with hypoallergenic materials.
Wendell August Forge
Metal ornaments and gifts, hand-crafted in PA, featuring the Pittsburgh skyline, the Pittsburgh Steelers & Penguins, local Collegiate collections, Christmas-themed ornaments, giftware, and home décor.
Women of the Cloud Forest
Products from fair-trade artisans in Nicaragua including beautifully decorated ceramic luminaries, vessels, ornaments and bells plus hand carved wooden items, distinctive jewelry, and gift items.
Visiting Vendors
Throughout the market, we will be joined by rotating vendors who will be with us for shorter visits. Dates are subject to change.
JP Diroll Photography
November 22 - December 8
Photographs of Pittsburgh, landscapes and wildlife, as well as calendars, ornaments, coasters, and magnets.
Pop Up in Pittsburgh
November 22 - December 7
Make an impression this holiday with playful and dramatic 3-dimensional pop-up greeting cards imported from Vietnam plus imported silk and wool scarves.
837 North
December 8 - 23
Natural candle company that makes signature fragrance blends inspired by different areas of the world.
Little Europe
December 8 - 23
Czech and Slovak hand blown glass ornaments, handmade glassware, wheat and cornhusk products, decorated eggs, embroidered table cloths, tapestries, assorted stoneware, and wooden items.
Sorcery Science
December 9 - 16
Science and nature inspired handmade jewelry, keychains, quilts, candles, hand-printed t-shirts and onesies.
KLoRebel Art
December 17 - 23
Beautiful line illustrations of Pittsburgh that are transformed into wearable and useful pieces of art.
New! Wrap up the Year with the Handmade Arcade Winter Market
December 26 - 31
Pick up a New Year's treat for yourself or a friend when Handmade Arcade takes over the Peoples Gas Holiday Market™ chalets with extended dates and new artists. Support local artists, crafters, and Pittsburgh makers at this new holiday shopping experience. Stay tuned as more details for the Winter Market are announced later in the season.